Explore the Natural World With Your Class: Audubon Adventures Classroom Kits
(Digital Program is FREE for one educator per school in the DOAS Operating Region (Delaware, Otsego, Western Schoharie, Eastern Chenango Counties) while funding allows.  Educators interested in receiving the Audubon Adventures materials should contact Susan O'Handley, Education Chair at 607-643-5680 or by email at sjohandley@gmail.com).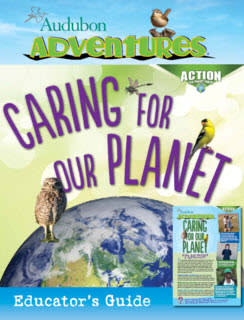 Now you can bring the natural world into your classroom and connect kids to the environment. Designed for teachers and students in grades 3 – 5, Audubon Adventures offers top quality nonfiction material from the environmental experts at the National Audubon Society.
With captivating hands-on activities, students learn that we all have a personal stake in the health of the environment and play an important role in its preservation and improvement.
Student Magazine—You will receive 4 separate magazine sets (32 of each). Each set has vibrant photos and lively illustrations that bring the natural world to life right in your classroom.Classroom kits can be used across the curriculum and offers correlations to Common Core Standards and National Science Education Standards PLUS student assessment material.
Educator Resource Materials to help you easily navigate your way through each topic and present the material to students in an appealing way. You will receive 4 stand-alone Educator's Guides, one for each magazine.
Each includes:
Step-by-step teaching plan for the topic
Instructions for hands-on activities with easy-to-remove reproducible pages
Background facts and information
Student assessment pages
Plus – each manual contains glossary words, recommended resources, and assessment materials.