Birding By Ear 2017
June 11, 2017 @ 8:30 am

-

12:00 pm

$25.00

Please feel free to sign up for DOAS Enews for information about programs like this and more!
Scroll down on this page for the online Registration Form.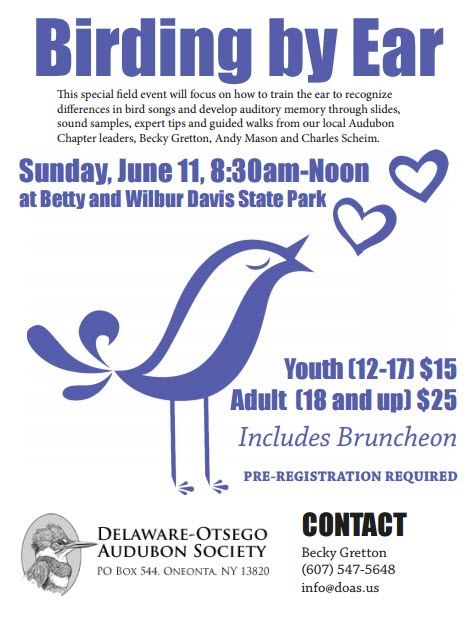 DOAS will once again offer a Birding By Ear (BBE) event at the scenic Betty and Wilbur Davis State Park in the Town of Westford on Sunday, June 11, 2017 at 8:30 AM to unlock the secrets of bird ID through birdsong. We will enjoy an educational session in the Sunset Pavilion, followed by a hike, a "Bruncheon" in the pavilion and an additional hike for more species. A raffle will be available as well.
There is a variety of habitats at this park, with a number of species possible. The cost, pre-paid, for the BBE is $25.00 for an adult over 18, and $15.00 for children 12-18 who are accompanied by an adult. This cost is non-refundable, as the food is pre-ordered. The event is limited in size, and registration will be on a first-come basis.
Bruncheon includes muffin varieties, cheese-hash brown casserole, sausage-hash brown casserole, tossed salad, chicken/ grape salad with croissants, coffee, tea and water.
If the weather makes hiking impossible, we will have our educational session and bruncheon and enjoy each other's company! (Last year the clouds parted just in time: perfect.) Pre-registration is available online using the form below with credit card payment via PayPal or with a check (which must be mailed to DOAS to arrive by June 5) . You may contact Becky Gretton at 607-547- 5648 for more information. If the event is full, you will be notified and your payment/check will be refunded or returned with our thanks. Please come to meet new people or reunite with friends from the past, and to learn more about our beautiful spring birds!
Children 12 and older are welcome and must be accompanied by an adult. Cost is $25 per adult 18 and over, and $15 for youths age 12-17. Please contact Becky Gretton at 607-547-5648 or visit doas.us. Additional details coming soon! Happy spring birding to all!!
Event Pre-Registration is required.
Please use the form below to register for the event.
You will be directed to the payment page following successful form submission.
[vfb id=3]