Delaware-Otsego Audubon Society (DOAS)
Established in 1968 – A Chapter of the National Audubon Society since 1970

DOAS 50th Charter Dinner
October 20, 2017 @ 5:30 pm

-

9:00 pm

$35 – $37
Please join us as we celebrate the conclusion of our 50th year!
2017 marks the end of our 50th year! Delaware-Otsego Audubon Society concludes this special time at the Annual DOAS Charter Dinner, to be held on Friday, October 20, 2017 at the Holiday Inn, 5206 NY-23, Oneonta. A social hour will begin at 5:30pm with dinner scheduled for 6:30pm and the evening's special program featuring Joan Collins, President of the New York State Ornithological Association at 7:30pm. The cost for the full special evening is $35 per person (with no charge for those wishing to attend only the program portion of the event.) A cash bar will be available. Door Prizes and Raffle Items!
"We hope many people will join us as we celebrate the the culmination of our 50th year with this special evening", stated Susan O'Handley, DOAS Co-President. Reservations (for both online and print/mail forms) can be made through the www.doas.us website or by contacting Board Member and Charter Dinner Chair, Julia Gregory at 607-563-2924. Please register by October 14.
SCROLL DOWN FOR MORE EVENT DETAILS
Click Here to View Raffle Items
(Registration form for Dinner Portion of the event has been removed as we are past the deadline. Check with Julia at the phone number above to see if space is still available for the Dinner)
Charter Dinner Special Program
Boreal Birds of the Adirondacks
The Delaware Otsego Audubon Society will celebrate their 50th anniversary at the annual Charter Dinner on October 20, 2017 with keynote speaker Joan Collins presenting "Boreal Birds of the Adirondacks". Joan is President of the New York State Ornithological Association, Adirondack Avian Expeditions and Workshops, LLC, leads birding field trips year round, and is a New York State licensed guide and Adirondack 46er. A multimedia presentation using photographs, video, audio, and slides of the wonderful birds that nest in the North Country will be enjoyed by all.

Joan Collins is President of the New York State Ornithological Association and Editor of New York Birders. She is also Vice-President of Northern New York Audubon, past President of High Peaks Audubon Society, and past member of the Board of Directors for the Audubon Council of New York State.
Joan, President of Adirondack Avian Expeditions & Workshops, LLC, leads birding field trips year-round, is a New York State licensed guide, an Adirondack 46er, and has climbed all the Adirondack fire tower peaks. She is a frequent guest speaker and teaches classes on ornithology topics. Joan has published several journal, magazine, and newspaper articles on wildlife and conservation topics in various publications including New York Birders, Conservationist, Adirondack Life Magazine, LOCALadk Magazine, and The Kingbird. She authored several warbler species accounts, in addition to serving as a peer reviewer for The Second Atlas of Breeding Birds in New York State. Mountain Lake PBS, Adirondack Explorer, and Adirondack Life magazine have featured pieces on Joan, and her regular birding segments with Todd Moe can be heard on North Country Public Radio. Joan blogs for the Regional Office of Sustainable Tourism.
Follow Joan on Facebook at: https://www.facebook.com/AdirondackAvian
Her website can be found at: http://www.adirondackavianexpeditions.com/

The public is invited to the Holiday Inn Oneonta, 5026 State Highway 23 for a 7:30 program following the dinner. Reservations to attend the dinner may be made at doas.us.
Related Events
We envision a healthy world where people and wildlife thrive and natural resources are protected.
The mission of Delaware-Otsego Audubon Society is to protect our natural environment and connect people with nature
 to benefit birds and other wildlife through conservation, education, research and advocacy.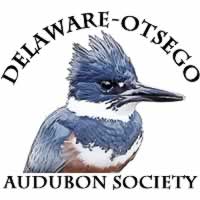 Delaware-Otsego Audubon Society
P.O. Box 544
Oneonta, NY 13820
(607) 397-3815
info@doas.us
© 1968-2021 Delaware-Otsego Audubon Society
Images and drawings on this site are used with permission of the artists and are subject to copyright.