Delaware-Otsego Audubon Society (DOAS)
Established in 1968 – A Chapter of the National Audubon Society since 1970

Glimmerglass Film Days Bird Walk prior to The Messenger on Nov. 12
November 12, 2016 @ 10:30 am

-

11:30 am
Join Delaware-Otsego Audubon Society on Saturday, November 12, 10:30am-11:30am for a bird walk on the grounds of the Fenimore Art Museum prior to the viewing of The Messenger as part of the Glimmerglass Film Days.  This bird walk is free and open to the public.  Participants will meet at the back patio of the Fenimore Art Museum in time for a 10:30am start.
The film will be shown from 1:00-3:00 pm and will include a Q&A session with ornithologist Bill Evans, who conducted some of his research at the DOAS Sanctuary at Franklin Mountain.
In celebration of our 50th Year, and to provide support for this programming in our region, DOAS has proudly sponsored Glimmerglass Film Days.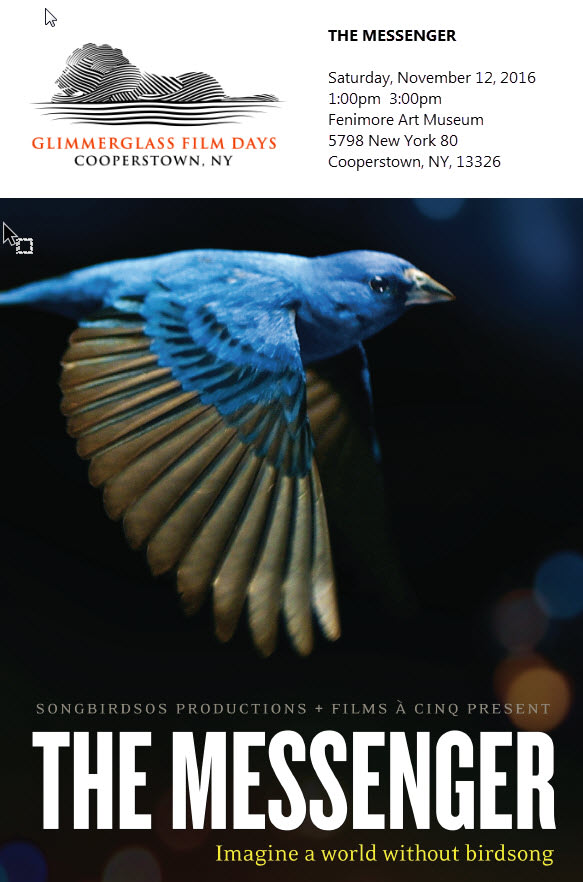 We envision a healthy world where people and wildlife thrive and natural resources are protected.
The mission of Delaware-Otsego Audubon Society is to protect our natural environment and connect people with nature
 to benefit birds and other wildlife through conservation, education, research and advocacy.
Delaware-Otsego Audubon Society
P.O. Box 544
Oneonta, NY 13820
(607) 397-3815
info@doas.us
© 1968-2021 Delaware-Otsego Audubon Society
Images and drawings on this site are used with permission of the artists and are subject to copyright.