Hunters Urged To Choose Non-lead This Fall – Zoom Panel Discussion
October 7, 2020
@
7:00 pm
-
8:00 pm
It has been known for many years that lead has detrimental impacts to human health and the environment. To lessen these impacts, lead has been removed from plumbing, paints, gasoline, fishing sinkers, waterfowl shot and other products.  However,  ammunition for hunting remains a significant source of lead in our environment. 
Please join the Delaware-Otsego Audubon Society on Wednesday, October 7, 2020 at 7 p.m. for a special Zoom panel discussion on ammunition alternatives.  This discussion  will explain how hunters can (and why they should) choose to use non-toxic ammunition for hunting.
The program will overview impacts on human health, impacts on wildlife, comparisons of lead and non-lead bullet fragmentation and technical performance of non-lead ammunition.  Time will be dedicated for questions and answers following the panelist presentations.
Pre-registration is required for all participants. Register at the link below.
https://us02web.zoom.us/webinar/register/WN_eHrV0GlLTp-wPdlnTKqV8w
After registering, you will receive a confirmation email containing information about joining the webinar.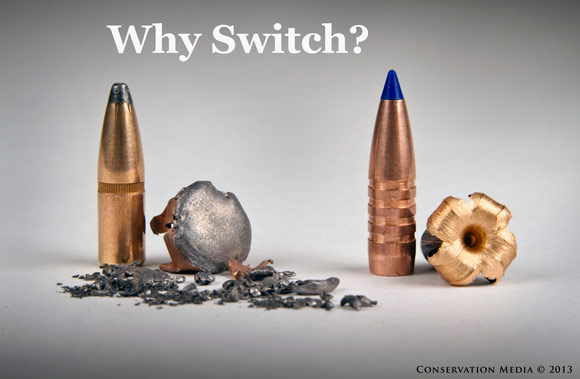 Panelists:
Landa Palmer, Associate Professor of Nursing at the SUNY Delhi School of Nursing. Landa will discuss the human impacts of lead consumption. She and her family operate a dairy farm in Delaware County. 
Barbara "Missy" Runyan, Founder and Wildlife Rehabilitator at the Friends of the Feathered and Furry Wildlife Center in Hunter has treated raptors suffering from lead poisoning, including many Bald Eagles. Missy will discuss the impacts of lead poisoning on wildlife and challenges of rehabilitation.  
Michael DiBenedetto is a NYS Hunting Education Instructor with expertise on the technical performance of lead and non-lead ammunition.  
Tom Salo is a hunter and Christmas tree farmer in Otsego County who has coordinated a number of raptor research efforts. Tom – and those who hunt his property – have extensive hunting experience with non-lead bullets.   
The Moderator is Dr. Peter Fauth, Ornithologist and Chair of the Biology Department at Hartwick College.
Lead bullets can result in the consumption of the toxin, affecting both humans and wildlife. Fragmented bullets are responsible for most lead poisoning of scavengers. Opportunistic feeders like eagles consume remains that hunters leave in the field. 
Non-lead ammunition has been found to be an effective and safer alternative.  Hunters, landowners and wildlife enthusiasts will hear panelists discuss ammunition performance, how lead consumption occurs, human and wildlife impacts, and choices hunters and landowners can make to reduce lead in the environment.