Delaware-Otsego Audubon Society (DOAS)
Established in 1968 – A Chapter of the National Audubon Society since 1970

Marvels of Avian Migration
April 21, 2017 @ 7:30 pm

-

9:00 pm

Free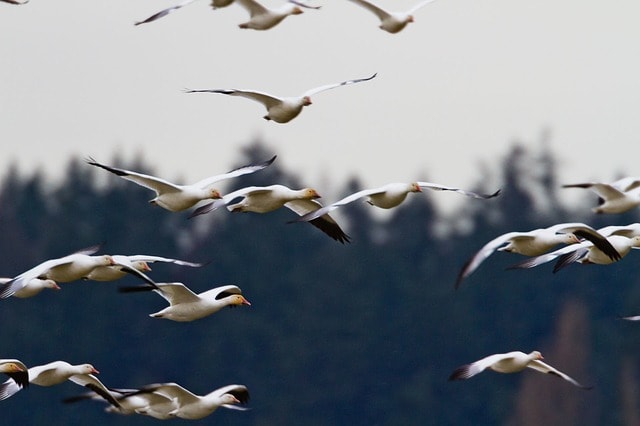 On Friday, April 21st, 7:30pm, Jenny Murtaugh, Biologist with the Department of Environmental Conservation, will guide us through the many aspects of spring migration and address the questions: "Why do birds migrate?" and "Which birds migrate at night and which by day?" We will learn about migration strategies, mechanics, and techniques used to study our marvelous avian travelers. This is perfect timing for everyone preparing for spring whether through a bird count or survey, a hike or spot birding, or in the back yard!
Jenny has a bachelor's degree in Wildlife Management from SUNY Cobleskill and is currently pursuing her master's degree through SUNY Albany. She began working for DEC as a wildlife technician in 2009. She has a diverse background including, but not limited to, work on coyote genetics and ecology, fishers, Karner blue and frosted elfin butterflies, grassland birds, and wintering raptors. She contributed extensively to a recent revision of NY's Species of Greatest Conservation Need list and development of the State Wildlife Action Plan. Jenny's current work focuses on review of energy projects for impacts to fish and wildlife. Her thesis research is on the declining eastern whip-poor-will, with a goal of developing Best [Land] Management Practices to benefit the species in NY. She also bands birds at a local MAPS station.
Jenny will speak on the why's and how's of migration, impressive feats of migration, techniques used to study migration, and will conclude with a current "migration forecast" for the week of April 22-29 in our area! This is perfect timing for all of us who are preparing to celebrate spring birding with a count, survey, hike or other outing.
Join us at 7:30pm at the Elm Park Methodist Church, 401 Chestnut St. in Oneonta on the 21st of April. Refreshments will be served.
Related Events
We envision a healthy world where people and wildlife thrive and natural resources are protected.
The mission of Delaware-Otsego Audubon Society is to protect our natural environment and connect people with nature
 to benefit birds and other wildlife through conservation, education, research and advocacy.
Delaware-Otsego Audubon Society
P.O. Box 544
Oneonta, NY 13820
(607) 397-3815
info@doas.us
© 1968-2021 Delaware-Otsego Audubon Society
Images and drawings on this site are used with permission of the artists and are subject to copyright.