The Ins and Outs of Electic Vehicles – an Owner's Perspective
March 3, 2021
@
7:00 pm
-
8:00 pm
March 3, 2021 @ 7:00 pm – 8:00 pm – Online Virtual Event  
In 2020, due to the coronavirus and the resulting work-from-home and restrictions on travel, U.S. greenhouse gas emissions fell more than 10 percent – reaching their lowest levels in 30 years, according to a January 12, 2021 article in the NY Times by Brad Plumer. (Covid Took a Bite From U.S. Greenhouse Gas Emissions in 2020 https://nyti.ms/38CBbop).  Much of the reduction was due to the drop in automobile use. 
The technology and infrastructure for Electric Vehicles is rapidly changing, making it more and more feasible each year for adoption by the masses. This evening's presentation, hosted by Delaware-Otsego Audubon Society as part of the DOAS Climate Action Leadership Program will feature Tom and Celeste Theis, a couple who has embraced the EV revolution for their household and 'will not go back to gasoline'.
March 3, 2021
@
7:00 pm
-
8:00 pm
About our Presenters, Celeste and Tom Theis
Tom and Celeste Theis are enthusiastic electric vehicle owners who will never go back to gasoline. Tom, a scientist and engineer, is fascinated by the technological advances making affordable, long-range EVs possible. Celeste, a social worker, cares little about the technology, but she and Tom agree: the cars are a pleasure to own and fun to drive! 
During a 38-year career with IBM, Tom Theis made numerous contributions to the development of information technology as a researcher, manager, and executive. He is currently with Utopus Insights, pursuing a long-term passion — acceleration of technological and societal change to combat global warming.  
Celeste Theis retired from the Ossining Public School system in 2011 and has since worked as a psychotherapist in private practice. She has long been a political activist for progressive causes.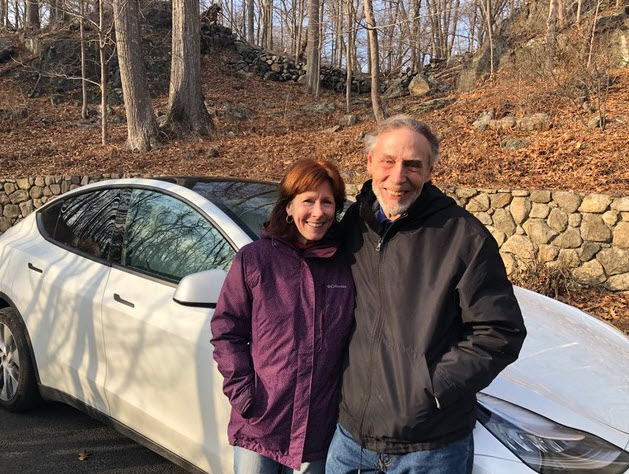 During this informal, conversational program, Tom and Celeste will overview their motivations and feedback for being an EV household in New York State. They will include information about the increasing number and varieties of available models, vehicle safety and maintenance, increasing range of EV's along with the growing availability of roadside 'fast-chargers', and the great good this revolution will bring to our environment.
If you have questions about Electric Vehicles, this forum is the place to ask! Please join us on Zoom on Wednesday, March 3, 2021 at 7pm and bring all your EV questions. The average household can reduce their carbon by approximately 6-8 metric tons per year (per vehicle) by making the switch away from standard fuel engine vehicles. Save money, Protect the environment, Improve your health!
This program is part of the DOAS Climate Action Leadership Training Program, funded in part through a 2020-21 Audubon in Action Grant from National Audubon Society.
Free
ONLINE – VIRTUAL EVENT
Oneonta, NY United States