Delaware-Otsego Audubon Society (DOAS)
Established in 1968 – A Chapter of the National Audubon Society since 1970

Wells Horton, Photographer
February 19, 2016 @ 7:30 pm

-

9:00 pm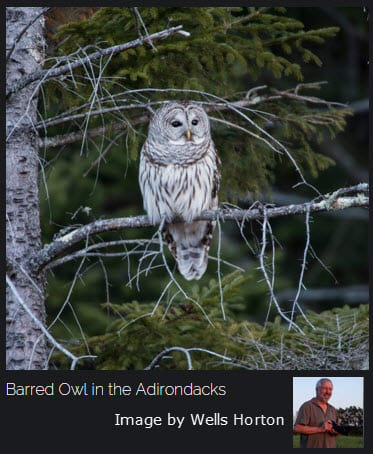 Wells Horton is a Central New York landscape photographer. At Age 13, Wells said when he retired he would pursue landscape photography. Having lived in various areas within the State he has spent the past thirty plus years in the Sherburne area. New York State offers so many photographic opportunities from Orient and Montauk Points to the Catskills, Adirondacks, Hudson Valley, Finger Lake, and Central and Western New York. Mixing color, light, and weather, Wells captures the State's landscapes that have a feel of water colors. Wells conducts various photography workshops. His photographic work can be seen at http://wells-horton.smugmug.com
Other parts of the world hold stark beauty while New York State is filled with subtle beauty. Think of stark landscapes as beautiful landscape paintings done in acrylic or oil paints where Central New York offers beautiful landscape paintings done in watercolors. Life's bustle steals our time preventing us from seeing. The weather, lighting, and colors are never the same. May brings green as November brings brown. It's not one green or one brown rather hundreds of shades of seasonal color. The season's cyclical march is an ever changing array of colors. The sleep of winter gives us monochrome greys, whites, and blacks. Without leaves one can gaze deep into the woods. Gradually, swelling buds reduce this visibility while showing a subtle tinge of color. This progresses into the many shades of green. This richness over time becomes the drier and muted green of deep summer. This leads to fireworks of fall. The reds, oranges, yellows are what one thinks of for Central New York color yet there is more. Mystical morning fogs add more emotion into the landscape mix. As the season moves back to the monochromes of winter another color transformation unfolds with the many shades of brown. My mission is to allow one to take in the circle of color surrounding us.
–Wells Horton
The program is scheduled for 7:30 p.m., Friday, February 19, in the Elm Park United Methodist Church, 401 Chestnut St., in Oneonta. The meeting is free and open to the public. Refreshments will be served. We look forward to seeing you!
Related Events
We envision a healthy world where people and wildlife thrive and natural resources are protected.
The mission of Delaware-Otsego Audubon Society is to protect our natural environment and connect people with nature
 to benefit birds and other wildlife through conservation, education, research and advocacy.
Delaware-Otsego Audubon Society
P.O. Box 544
Oneonta, NY 13820
(607) 397-3815
info@doas.us
© 1968-2021 Delaware-Otsego Audubon Society
Images and drawings on this site are used with permission of the artists and are subject to copyright.