The Essentials of Birding by Ear
21oct7:30 pm8:30 pmThe Essentials of Birding by EarA Universal Method for Learning to Identify Birds Using Calls or Notes7:30 pm - 8:30 pm
Event Details
A Universal Method for Learning to Identify Birds Using Calls or Notes
Join Delaware-Otsego Audubon Society on Friday, October 16 on Zoom (streamed LIVE from our 2022 Charter Dinner), at 7:30pm for a special presentation with award winning author and ornithologist, John C. Robinson.
Click Here to Register to Attend the Charter Dinner In Person
Click Here to Register to Attend this Presentation on Zoom
Click Here to Purchase Raffle Tickets
(Winners to be announced immediately after the program.)
Birding is fun! Plain and simple! To appreciate, understand and enjoy the bird life around them, birders must rely on the to instantly recognize their fine feathered friends. Identifying birds quickly and easily by sound is not only one of the biggest frustrations birders experience, it is also the singular focus of this presentation by award-winning author and ornithologist John C. Robinson. This includes a set of advanced techniques that can be adapted year-after-year to fine-tune one's ability to identify similar-sounding bird species or challenging species groups regardless of geographic location.
About the Presenter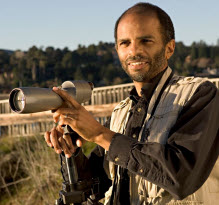 A professional ornithologist, keynote speaker, and environmental consultant, John C. Robinson holds a B.S. degree in Biology from Iowa State University. A two-time #1 Best-Selling author, he has published six books about nature and birds, including An Annotated Checklist of the Birds of Tennessee (1990), North American Bird Reference Book (2004), and Tweet, Flutter, and Squawk! (2015). He has also led professional birding and natural history tours to South Africa and numerous locations within the United States.
Since 1999, John has been an advocate for minorities in birdwatching and nature and has conducted research on how to connect our youth and young adults to nature through the magic of bird watching.
He has worked in collaboration with Toyota and the National Audubon Society; and continues to travel across the country, speaking about his landmark book, Birding for Everyone: Encouraging People of Color to Become Birdwatchers.
Time

(Friday) 7:30 pm - 8:30 pm
Location

Virtual Location on Zoom
Organizer

We envision a healthy world where people and wildlife thrive and natural resources are protected. The mission of Delaware-Otsego Audubon Society is to protect our natural environment and connect people with nature to benefit birds and other wildlife through conservation, education, research and advocacy.
PO Box 544, Oneonta, NY 13820