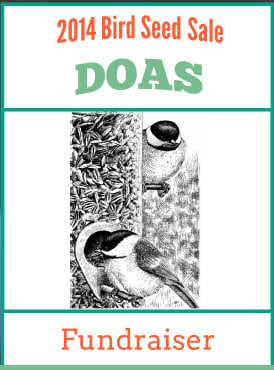 Information is now available for the 2014 Bird Seed Sale Fundraiser to support DOAS education initiatives.
The DOAS Bird Seed Sale Fundraiser is your opportunity to buy quality bird seed, and help support DOAS programs including guest speakers at member meetings, field trips and events, the Franklin Mountain Hawk Watch program, and more. We urge you to buy as much seed as you need for the entire winter.
PICK UP DATE IS SATURDAY, NOVEMBER 8th – 9AM-11AM AT WALMART LOT, ROUTE 28, SOUTHSIDE, ONEONTA.
PLEASE NOTE YOUR NAME, EMAIL AND PHONE ON THE ORDER FORM SUBMISSION.
View the Color Brochure and Order Form Here
Download a Printable Brochure with Order Form Here (Black and White for easy printing)
Order Online at DOAS.us/Store