Use the form below to sign up online for DOAS Membership
or Download a copy of our Membership Brochure for Print and Mail with a check.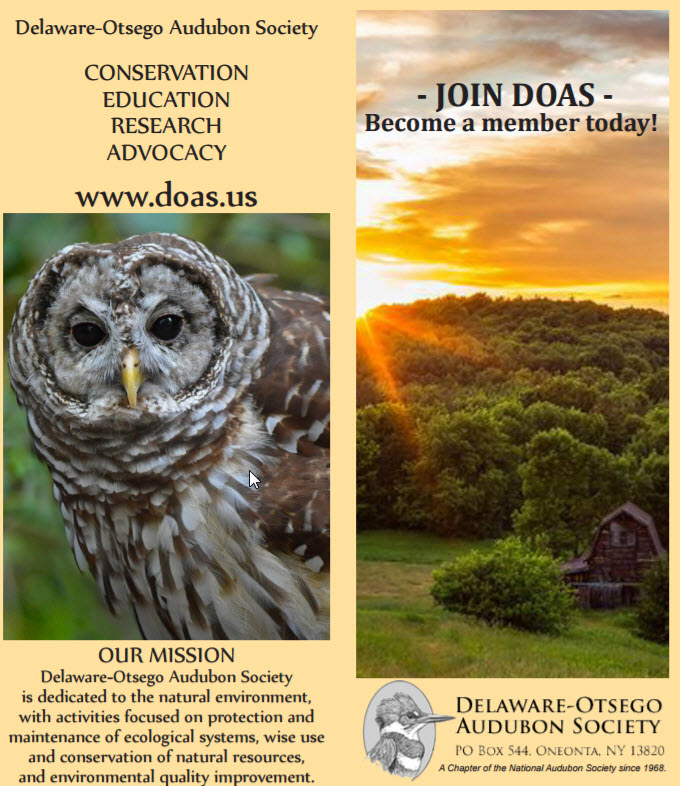 DOAS Provides:
Education Programs at member meetings, monthly from September through May each year (Free and open to the public)
Over 30 Regional Wildlife & Ecology Field Trips each year led by Board Members and Member Volunteers (Free and open to the public)
Christmas Bird Count in two regions – coordinated by DOAS (Free/annual event)
Franklin Mountain Hawk Watch – coordinated by DOAS Board Members and operated by
DOAS Member Volunteers every day Fall/Winter Months
Appalachian Region Golden Eagle Project – coordinated by DOAS Board Members and operated by DOAS Member Volunteers each Winter
Fall Open House Event at Franklin Mountain Sanctuary (Free Annual Event/October)
John G. New Summer Camp Program (2013)
Audubon Adventures classroom curriculum sponsorships
Environmental Education Grants to regional educators
May Big Day Bird Count
Property management at Franklin Mountain Sanctuary and Burlington Wetlands
Annual Fall Bird Seed Sale for locally grown sunflower and premium blends
Involved leadership on regional conservation and advocacy initiatives
MEMBERSHIP:
Individual: $15 per year or $25 for 2 years
Family: $20 per year or $30 for 2 years
Members receive 8 issues per year of The Belted Kingfisher, the newsletter of DOAS.
New members may also request a free New York Wildlife Viewing Guide book ($9 value).
Attend regularly scheduled programs
Go on guided field trips and bird walks
Visit the DOAS wildlife sanctuary
Join bird counts

Participate in environmental policy decisions
Volunteer for local activities
Bring your own interests to members
Publish articles in The Belted Kingfisher
Download our membership brochure/application form
Sign Up and Pay for Membership Online Here
OR
Send your name and address (phone number and email optional) with check payable to "DOAS" to:
DOAS Membership Chair
PO Box 544
Oneonta, NY 13820-0544
---

Join the National Audubon Society by using the link at left and you may direct 100% of your first year's membership dues to our chapter. Please enter R12 as the Chapter Code.