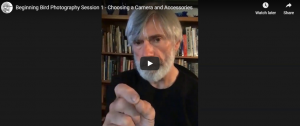 Are you a bird enthusiast who wants to delve into bird photography? If this describes you and you are not sure where to begin, this series of 'chats' might be the perfect solution for you! Join Delaware-Otsego Audubon Society (DOAS) Board Member and Local Photographer, Rod Sutton for a series of short, informal 'chat'-style sessions for guidance, advice and tips for budding bird photographers. To learn about all upcoming DOAS programs and events, sign up for DOAS emails.
Read More »
Thank you to Dr. Donna Vogler for sharing this video with DOAS!
Read More »
We are sorry to report that this webinar did not properly record. We are still learning, but promise to do better next time!
Read More »