This is a recording of a webinar presentation hosted by Delaware-Otsego Audubon Society on April 16, 2021 featuring Scott Weidensaul.
Since the dawn of human imagination, we have been spellbound by the migration of birds, in which even the smallest species traverse immensities of space the way we cross the street. But while the populations of many migratory birds are in drastic decline, there are many things we can do to save them. Naturalist and author Scott Weidensaul explores the wonder and mechanics of migration, and the simple, effective ways we can preserve them, from what we plant in our gardens to what we pour into our morning mug of coffee.
Scott Weidensaul is the author of more than two dozen books on natural history, including the Pulitzer Prize finalist "Living on the Wind." His newest book, "A World of Wings" about global migration, will be released in March 2021. Weidensaul is a contributing editor for Audubon, a columnist for Bird Watcher's Digest and writes for a variety of other publications, including Living Bird. He is also an active field researcher, studying saw-whet owl migration for more than two decades, as well as winter hummingbirds, bird migration in Alaska, and the winter movements of snowy owls through Project SNOWstorm, which he co-founded.
Learn more through Scott's Books!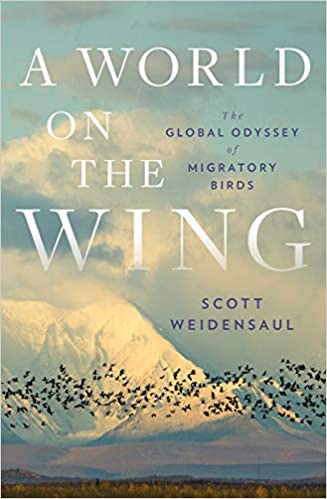 From Amazon:
New York Times Bestseller

An exhilarating exploration of the science and wonder of global bird migration.
In the past two decades, our understanding of the navigational and physiological feats that enable birds to cross immense oceans, fly above the highest mountains, or remain in unbroken flight for months at a stretch has exploded. What we've learned of these key migrations―how billions of birds circumnavigate the globe, flying tens of thousands of miles between hemispheres on an annual basis―is nothing short of extraordinary.
Bird migration entails almost unfathomable endurance, like a sparrow-sized sandpiper that will fly nonstop from Canada to Venezuela―the equivalent of running 126 consecutive marathons without food, water, or rest―avoiding dehydration by "drinking" moisture from its own muscles and organs, while orienting itself using the earth's magnetic field through a form of quantum entanglement that made Einstein queasy. Crossing the Pacific Ocean in nine days of nonstop flight, as some birds do, leaves little time for sleep, but migrants can put half their brains to sleep for a few seconds at a time, alternating sides―and their reaction time actually improves.
These and other revelations convey both the wonder of bird migration and its global sweep, from the mudflats of the Yellow Sea in China to the remote mountains of northeastern India to the dusty hills of southern Cyprus. This breathtaking work of nature writing from Pulitzer Prize finalist Scott Weidensaul also introduces readers to those scientists, researchers, and bird lovers trying to preserve global migratory patterns in the face of climate change and other environmental challenges.
Drawing on his own extensive fieldwork, in A World on the Wing Weidensaul unveils with dazzling prose the miracle of nature taking place over our heads.
16 pages of color photographs; 15 maps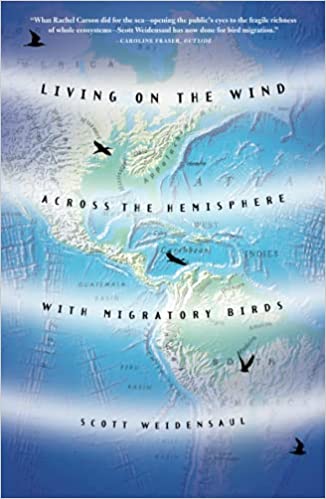 From Amazon:
Living on the Wind is a magisterial work of nature writing from author Scott Weidensaul.

Bird migration is the world's only true unifying natural phenomenon, stitching the continents together in a way that even the great weather systems fail to do. Scott Weidensaul follows awesome kettles of hawks over the Mexican coastal plains, bar-tailed godwits that hitchhike on gale winds 7,000 miles nonstop across the Pacific from Alaska to New Zealand, and myriad songbirds whose numbers have dwindled so dramatically in recent decades. Migration paths form an elaborate global web that shows serious signs of fraying, and Weidensaul delves into the tragedies of habitat degradation and deforestation with an urgency that brings to life the vast problems these miraculous migrants now face.