Supporting Our Local Chapter – Delaware-Otsego Audubon Society


Preorders Accepted Now through October 27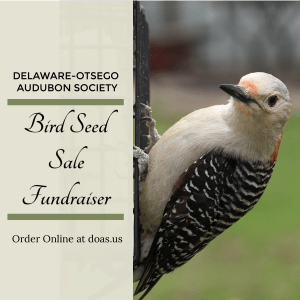 [ONEONTA, NY – REGIONAL] The Delaware-Otsego Audubon Society will be accepting bird seed pre-orders over the next two months to raise funds required to support programming throughout the region in 2018-19. Orders are placed by mail-in form or by online purchase at https://doas.us/2018-bird- seed-sale/ now through October 27 and then picked up by customers on Saturday, November 3 at VP Supply Corp, 41 Country Club Road, Oneonta, NY. (NEW LOCATION!)
A featured item of the sale is locally grown black oil sunflower seed, available again this year in 40 lb. bags. The seed is harvested from a local farm in Richfield Springs and supports critical local grassland bird habitat as well as local family farms. In addition, the sale features products from Aspen Song, by way of Co-operative Feed Dealers (CFD) located in Conklin, NY, a company which sources and mixes much of their bird seed products from high quality regional suppliers.
According to DOAS Co-President, Susan O'Handley, "The Bird Seed Sale is an important fundraiser for the organization as most of our events are designed to run as break-even or free programs. Proceeds from this sale help to provide support for a number of our activities including speaker fees for our public programs, maintenance and repairs at the sanctuary, hawkwatch expenses, funds for our environmental education grants for teachers and more."
Also included in the annual sale is pre-orders for bird-friendly coffee – harvested from coffee plantations that are certified by the Smithsonian Migratory Bird Institute to recognize that they meet rigorous standards for a product that is organic, fair trade and supports habitat biodiversity. "If you haven't tried Birds and Beans coffee yet, this is a great opportunity to try a bag. We place orders monthly for our members and friends so they can enjoy this product year-round and help protect our migratory birds at the same time", continued O'Handley. "We are also offering our new DOAS 15oz Coffee Mugs, and Hawkwatch Hats this year".
The pre-order sale runs through October 27 with orders picked up on November 3 from 9am-11am (this year at VP Supply Corp, 41 Country Club Road, Oneonta, NY. NEW LOCATION!) – perfect timing for holiday gift giving for bird lovers! For more information, contact Susan O'Handley, DOAS Co-President at 607-643-5680 or by email at sjohandley@gmail.com.