Betty and Wilbur Davis State Park:
A Nice Place to Go for Spring Migration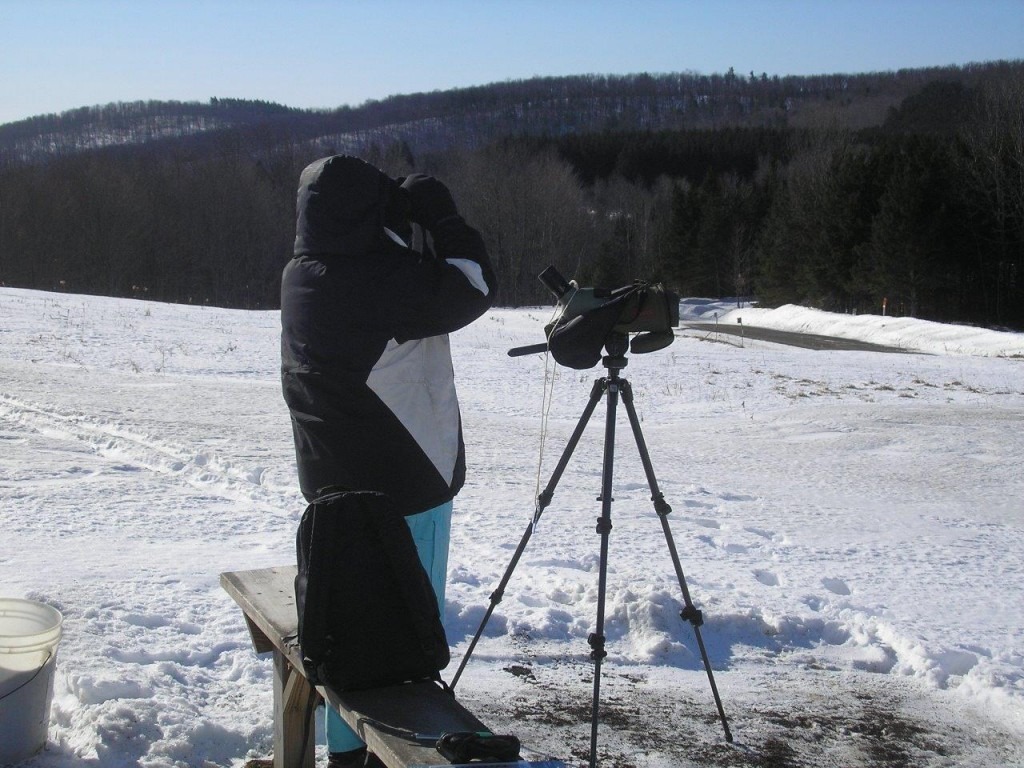 After a long stretch of winter weather in February of 2009 the sky cleared, the sun came out and my friend Diane Graf and I decided to finally follow those State Park signs to the Betty and Wilbur Davis Park in the Town of Westford.  We were surprised to see everything the park has to offer.  There is no admission fee.  As we hiked along Davis Road on February 24, two really big birds passed overhead, flying in a northerly direction:  Golden Eagles!  During March visits a Red-shouldered Hawk mixed it up a little with a Red-tail, and Eastern Bluebirds and an Eastern Meadowlark appeared.  Ravens provided entertainment.  It was a wonderful place to celebrate spring's arrival, and seemed like a great place to hawkwatch.
A Golden Eagle Survey was conducted at the Park from March 7- 13 in 2010 and the Davis Park data began its life on hawkcount.org and continues to be entered as counting occurs.  Look for DOAS-Davis State Park on the website.
In March of 2011, a month of scheduled counting occurred.  It was a wintery March that year!  Park worker Joe Ritton kindly built a wind break that he installs at the start of Spring Migration.  Did I mention that there is a clean, heated, ADA accessible rest room just a short drive away?  If you're inclined to spend a few days at the Park, cabins are for rent.
While there's never a guarantee that birds will migrate past the observation site, a few factors may be considered: wind, visibility and cloud cover.  Davis Park is perched up high, and wind can be fierce there, so be prepared with many more layers of clothing than you think necessary as you leave home, warm footwear, hand and toe warmers, and something to protect your face.  A scope is a great idea.  The wind break will improve its stability.  Precipitation usually shuts down flight and certainly hinders visibility.  Cloud cover causes birds to fly at lower altitudes, whereas a sunny blue sky can send birds up high with lots of thermal lift, making them very hard to see!
Counting will occur on a casual basis this spring, so check hawkcount.org for results. Feel free to visit for some hawkwatching of your own.  Bring a portable chair and some nourishment and park at the lot visible on Davis Road   Your range of possibilities includes Bald and Golden Eagle, Red-tailed Hawk, Rough-legged Hawk, Red-shouldered Hawk, Sharp-shinned Hawk, Cooper's Hawk, Merlin, Kestrel, Broad-winged Hawk,  Northern Goshawk, Northern Harrier and of course, Turkey Vulture.  Barred Owls have been heard occasionally.  Snow Buntings remained through March last year.
                                                                                                                       Becky Gretton