Pre-orders are taking place now through April 30.  We expect to have a limited supply of extra plants available for sale on the pick-up date.
PLANT PRE-ORDER PICK UP
SATURDAY, JUNE 3 AT THE 
DOAS EV CAR SHOW
 11AM-1PM
AT DAMASCHKE FIELD PARKING LOT, NEAHWA PARK, ONEONTA, NY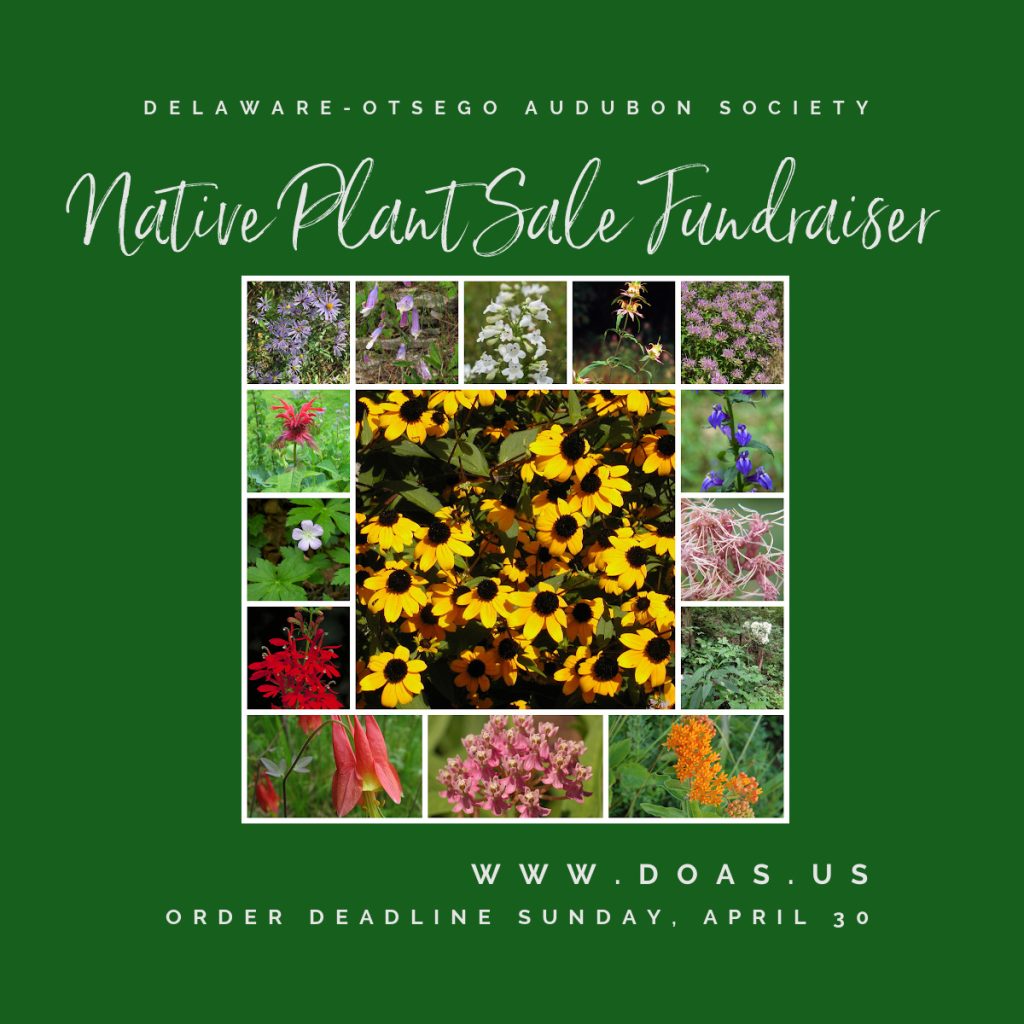 Native Plant Sale Fundraiser to Support Community Climate Action Projects
In 2020-21, Delaware-Otsego Audubon Society (DOAS) conducted extensive work in developing a network of community climate leaders and awarded over $8,000 in grants to local projects.  This special fundraiser will help DOAS to continue working in this area, to support local programs and products through providing seed money and support (as possible) for Climate Action projects in our region.
Pre-orders will be accepted starting now through 5pm on Sunday, April 30, 2023.  (If you are mailing payment by check, it has to arrive by 4/29.)
Pickup of all orders will be on Saturday, June 3 from 11am to 1pm at the DOAS Tent at the EV Car Show Event at Damaschke Field Parking Lot, Neahwa Park, Oneonta, NY   (the car show event runs from 11am to 2pm).  
On Tuesday, April 11, DOAS will present (on Zoom) a Recording of a program with
Doug Tallamy, Bringing Nature Home: The Importance of Native Plants. Local botanist, Connie Tedesco will be on hand following the video to answer questions. 
CLICK HERE TO REGISTER TO ATTEND the April 11 Zoom Program
Learn about a model local Native Plant Project Here.
Learn about Landscaping with Native Plants Here.
Pre-orders are now closed (5/1).
Please note: If you are coordinating supplies for a community climate action program, we may be able to offer special pricing. Contact Susan at sjohandley@gmail.com for more information.