The Delaware-Otsego Audubon's fall monthly meetings will host as the first program the incredible one hour documentary, titled, The Lost Birds Project. This is an elegy to five extinct North American Birds, by Todd McGrain, sculptor to bring back their stories through recreating their forms in elegant evocative bronze memorials, and placing the memorials at the location of each bird's demise. This film has been entered into numerous film festivals, and shown on American Public Television.
Todd McGrain traveled from the swamps of Florida, to a tiny Island off the coast of Newfoundland to find how and why each bird became extinct. His belief is, "these birds are not commonly known and they ought to be, because forgetting is another kind of extinction. It's such a thorough erasing."
Through his grassroots efforts, he has brought to a large audience of adults and children a new awareness of the importance of protecting what we have. DOAS is planning a trip to the Carey Conference Center in Rensselaerville, NY, to view about three to four of these sculptures first hand. The sculptures are on loan to the Center till the beginning of October.
The program will begin at 7:30PM on Friday, September 20, and is at the Elm Park Methodist Church, Chestnut Street, Oneonta, NY. Free and open to the public, refreshments are served.  The trip to the Carey Conference Center is scheduled for Saturday, September 21 trip information in this issue for details.
Contact information is: Eleanor Moriarty, 607-435-2054.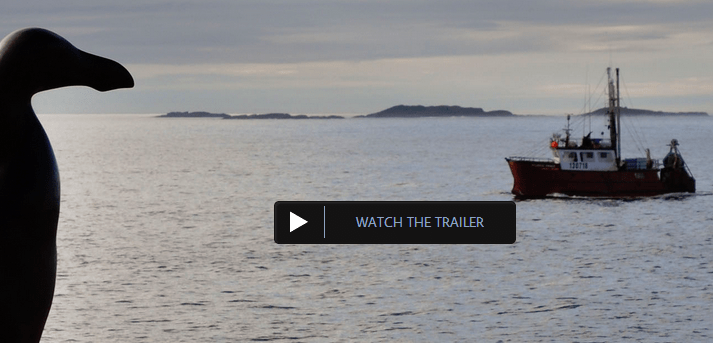 A fishing boat passes by the bronze sculpture of the Great Auk on Joe Batt's Point on Fogo Island, Newfoundland.  The sculpture is part of artist Todd McGrain's project to memorialize the extinction of five North American birds; the Carolina Parakeet, Great Auk, Passenger Pigeon, Heath Hen and Labrador Duck.   The documentary film, The Lost Bird Project, follows McGrain as he searches for the locations where the birds were last seen in the wild and negotiates for permission to install his large bronze sculptures there.  (Todd McGrain/Lost Bird Project)