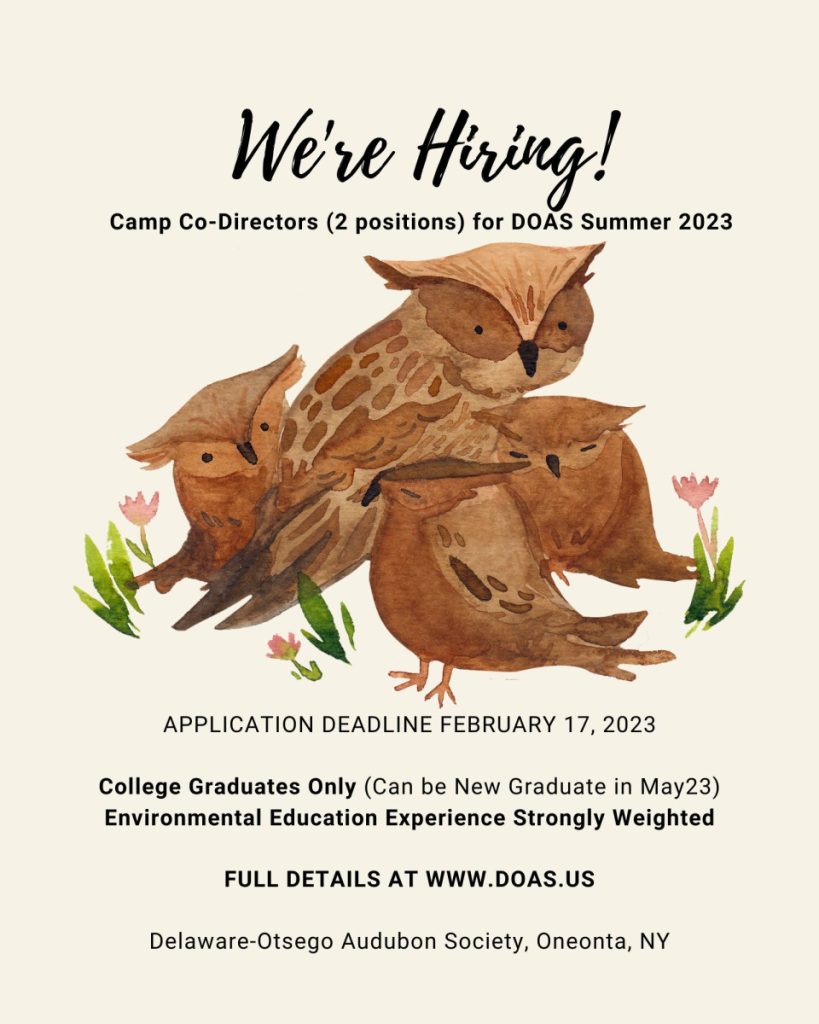 The Delaware Otsego Audubon Society camp program (nature themed) runs 9:30am-3pm for two to three four-day camp weeks during the Summer at our Franklin Mtn. Sanctuary in Oneonta for children entering grades 1-6 in the fall. (Each week focuses on a different age group.) We have a general outline of activities for each day, but there is flexibility in this depending on what the Camp Directors might like to do.
In addition to each 4-day camp session, there is time required for activity planning and preparation, purchasing of supplies and materials and general camp admin work (paperwork and on-site setup).
We are seeking two (2) kind and enthusiastic educators to work together to run our summer camp day program.
Requirements:
Minimum BA/BS degree
Work Experience in a formal Environmental Education program preferred
NYS Background Check (waived for local school employees with verification from the school)
Current Red Cross First Aid Certification
Ability to hike the trails at the DOAS Sanctuary and work in a rustic setting, arranging barn for camp setup and breakdown
Adherence to safety protocols and practices as outline in DOAS Camp SOP documents
Acceptance of and adherence to DOAS Policy Statements on EDI and Operational Code of Ethics (detail is below)
Application Deadline: February 17, 2023
Send cover letter and resume to DOAS Education Chair, Susan O'Handley at sjohandley@gmail.com with DOAS CAMP DIRECTOR APPLICATION in the subject line.
Delaware-Otsego Audubon Society is an Equal Opportunity Employer.
DOAS Policy Statements
Equity, Diversity, and Inclusion: 
Diverse perspectives are essential for the effective achievement of the vision and mission of our organization. We respect the individuality of each member of our community, and we are committed to providing an environment that is free of any kind of discrimination based on race, color, religion, sex, age, sexual orientation, gender identity and expression, disability, national or ethnic origin, politics, income level, or veteran status.
Operational Code of Ethics: 
DOAS Board, Staff and Volunteers, as representatives of the organization, will be held to the highest ethical standards in their behavior when interacting with each other and members of the public, particularly when carrying out related operational tasks and responsibilities. This applies also to those participating in events that are presented by DOAS.