Delaware-Otsego Audubon Society (DOAS) is currently seeking donations to allow for the purchase of one new GPS Tracking Monitor (at a cost of $1,400) to track a post-treatment lead-poisoned eagle following rehabilitation and release in our region. DOAS has been actively advocating on the use of non-lead ammunition for over a decade, and developed a formal position statement in the Fall of 2014.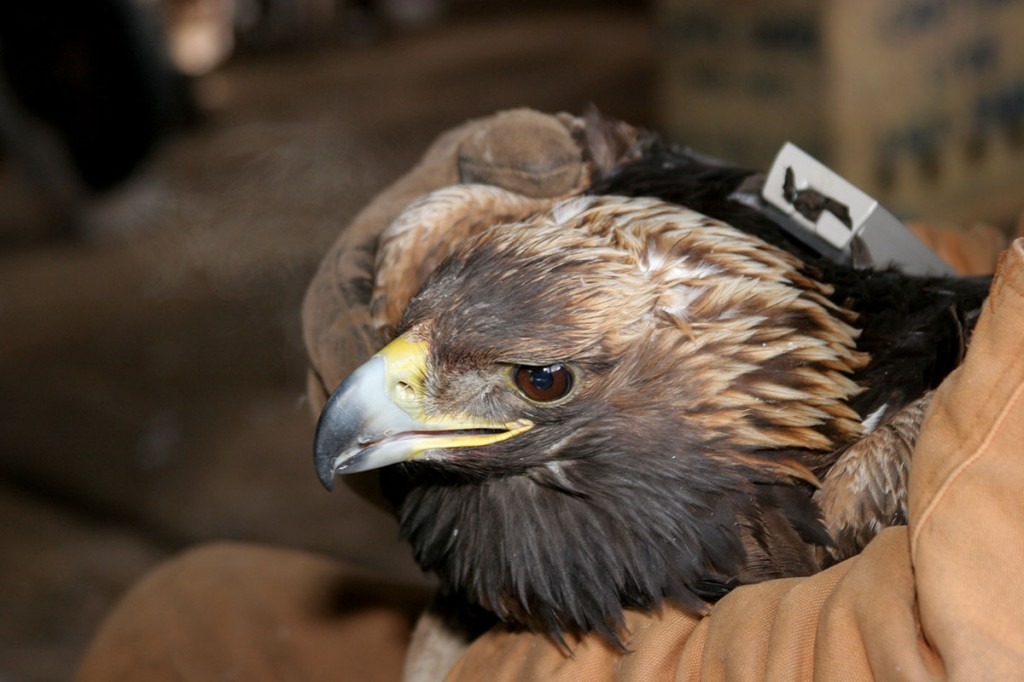 Eagles and other scavengers consume lead bullet fragments from animal carcasses and offal piles (intestines/waste piles) that are left in the field by hunters. (View our Video on YouTube – Lead Ammunition: A Needless Danger to Eagles and Ourselves.)
Unfortunately, poisoned eagles are not a rare occurrence. While we see signs of progress, we are a long way from convincing a majority of hunters to switch to non-toxic lead free bullets for hunting.
Some birds can be helped. Lead is removed from their bodies using a process called chelation. Rehabilitators treat these birds with the goal of returning to life in the wild. Little is known about how well birds do once they are released. Lead is a neurotoxin. Some birds may recover and thrive. Others may have suffered permanent brain damage. Birds of prey are like performance athletes. They need to be sharp and fast. It can be hard to tell how well they will fare while still captive.
One of our partners in hunter education is the Friends of the Feathered and Furry Wildlife Center (FFFWC) in Hunter, NY. Wildlife Rehabilitator, Missy Runyan, receives a significant number of eagles from NYSDEC. She does remarkable work. However, like other rehabilitators, she knows little about survival once the birds are released.
To help learn more about the outcomes of treating and releasing poisoned eagles, DOAS is expanding our partnership with FFFWC. We hope to track more released eagles via GPS monitors in the future. We were planning to apply for a grant this year but COVID-19 came along. We will write a grant application to help fund additional units when the American Eagle Foundation resumes grant funding in 2021.
Missy currently has a lead poisoned eagle in the latter stages of treatment and recovery. Tracking this eagle will allow us to monitor its health and activity. Funding is needed for the hardware. We are looking to raise $1400 over the next couple of weeks for the purchase of the first monitor device. If your circumstances allow it, please consider a donation to DOAS for this purpose. The data from these eagles may help improve outcomes, and inform the larger debate about lead bullet toxicity and the policies of NYSDEC and other wildlife agencies.
MAKE A DONATION
We have had a wonderful response and have successfully met our goals! Thank you to all who have donated. We will no longer be collecting for this dedicated fund, but we will happily accept donations to our Eagle Conservation Fund or General donations to support our work overall.
To make a donation, please use the form at https://doas.us/donate/ .
Learn More about Preventing Lead Poisoning in Eagles.
Create Your Own Non-Lead Ammunition Display.
Learn About Delaware-Otsego Audubon Society's Work with Golden Eagles.
###
Delaware-Otsego Audubon Society envisions a healthy world where people and wildlife thrive and natural resources are protected.
The mission of Delaware-Otsego Audubon Society is to protect our natural environment and connect people with nature to benefit birds and other wildlife through conservation, education, research and advocacy.